RECENTLY RELEASED COMPILATIONS WITH INADE TRACKS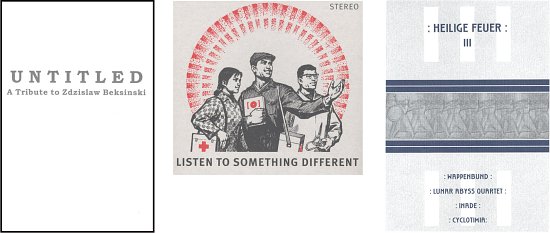 Wrotycz Records (Poland) collected a very nice CD set which is dedicated to the polish painter Zdislaw Beksinski. This UNTITLED set includes 12 prints of Beksinski paintings too. Like none of Beksinskis paintings had any titles, no track titles were gives as well for this compilation. The INADE track for this remains Untitled too.
A Symmetric Dream was released with the V.A. LISTEN TO SOMETHING DIFFERENT CD by Ars Macabre Records (Germany).
A while ago the long announced HEILIGE FEUER III CD compilation has seen the light of the day through the Der Angriff label from Russia. It includes the first versions of Samadhi State Part I and II which were already included as remixed versions on the Samadhi State CD.
---
INADE - PERFORMANCES UNDER EAST EUROPEAN SKIES
Inade performed at the Prague Industrial Festival on the 9th of December in Prague, Czechia at the Rock Cafè.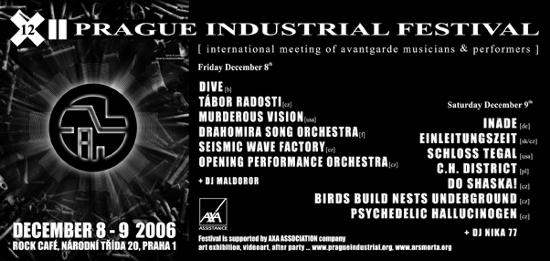 ---
ABANDONED INFERNO AT MOSCOW
Inade performed recently once more in Moscow on the 9th of November. We would like to thank Kirill Kosolapov and Timour Omar for their support and the organisation.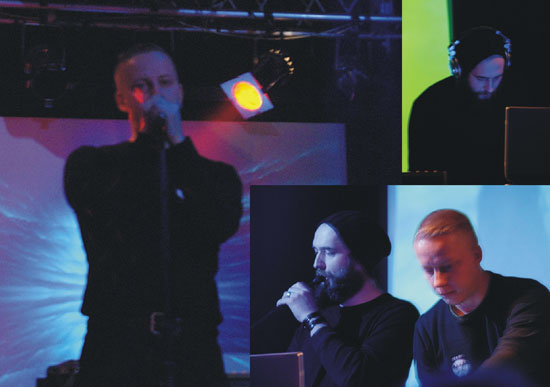 ---
SAMADHI STATE - collected recordings and a breakpoint on the way…

A Japanese edition of collected studio works from the last years, recorded during several sessions and rehearsals at the Light Channel. Remixed, re-constructed and re-edited in 2005. This release was accompaning the Spring Equinox concert in Tokyo and is now available outside of Japan as well.
"Samadhi State" is illuminating the space of reality and the luminous arcs of dreams. Samadhi is a over-conscious experience that lies beyond waking, dreaming, and deep sleep. The realisation made in Samadhi is numinous realisation. A perfect condition in vigil, a condition of absolute consciousness. It is the final goal of everything and the highest form of self-possession, in the sense of collecting all the faculties of the constitution towards reaching union or quasi-union, long or short in time as the case may be, with the divine-spiritual… Life in the spirit is not fading. If the restrictions of the empirical being are exceeded, the universal life is intensified. The life becomes cosmical and even hypercosmical. The Samadhi State is neither guards nor dreams it is the fourth dimension, where the infinite eternity prevails.
Tracklisting:
Ghost Sector, Samadhi State I, Samadhi State II, Legion Of God, Uninhabited Red, Cages, Samadhi State III, Samadhi State IV
limited edition digipack
loki 41
---
THE GHOST SECTOR IN THE BLACK BOX
Inade performed two special performances on the 13th and 14th of May at the Weezie Club in the Gallery of Contemporary Art in Leipzig.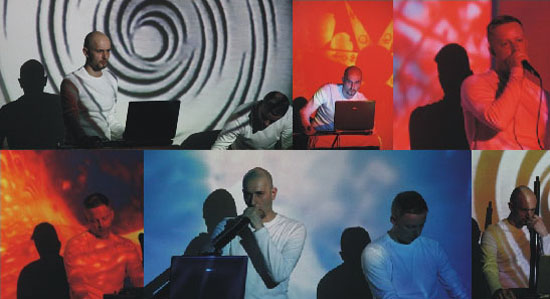 >> more pictures
>> video excerpt
---
LIVE - SPRING EQUINOX IN JAPAN
The 21st of March 2006 marked the first Asian appearance of Inade, celebrating the Spring Equinox with a special live set in Tokyo, Japan.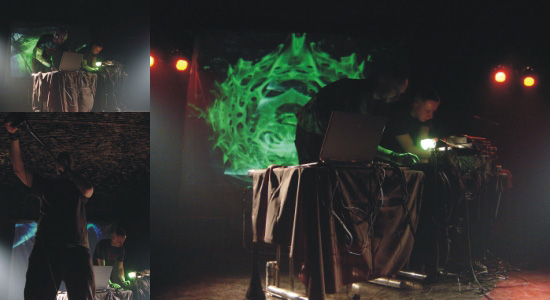 ---
AUDIO MYTHOLOGY - a new earthing
Since May 2005 a new chapter of live sets named AUDIO MYTHOLOGY began. Moving towards the perfection of the sonic puzzle, dipping further into epic sound structures, exploring a world of unexpressed phenomena and endless depths. The next audio triptychon of an electronic-modulated reality is unfolded now with enriched kinetic symbols and ruminant loops… New forms of video projection, shade and effect, creating an audible world of intermedial reality and mythology. Again it is joining the small interfaces which develop further in the live work, writing the soundscape of Inade's history.
Audio Mythology 15.05.2005 Leipzig, UT Connewitz, Germany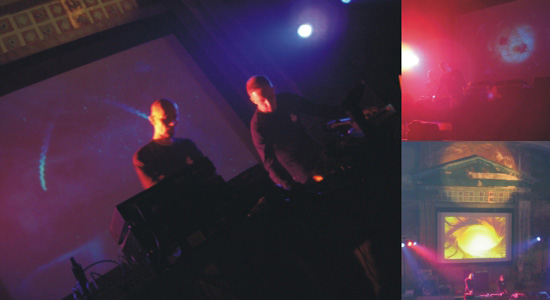 Audio Mythology 19.11.2005 Paris, Centre d'Animation Curial, France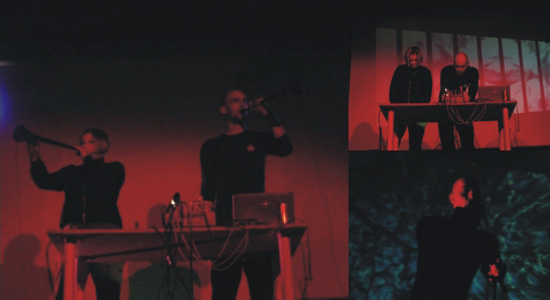 ---
Various Artists Releases- excerpt and exclusive receiver
During the last years numerous exclusive songs and remixes for compilations have been recorded. Some already appeared on CD and LP, other tracks are still waiting for their release.

Two Inade tracks Asteroid Probe and 3 Million Minds are contributed on a triple split CD with Anenzephalia and Operation Cleansweep released via Teito Sound Company/Japan. The CD is available via LOKI & Teito/Denzatsu.

Unreleased compilation tracks to date: Uninhabited Red (Version) - "Prague Industrial Festival Retrospective 1996-2005" DVD (Ars Morta/Czech Republic), Samadhi States Part I & II (Versions) - "Heilige Feuer III" CD (Indiestate/Russia), Requiem "Meinhof" (Achtung Baby/Russia)
---
COLLIDING DIMENSIONS - the circle is closed
After ten years and with the release of a four CD / LP boxset the circle of the opus Colliding Dimensions was closed. This collection is a conclusion of this decade and more than a memory.
Pressnote:
INADE Colliding Dimensions 4xCD / 4xLP BOXSET

At the intersection between dreams and ears wide open cognizance, between the known reality and the spiderweb cluster of dimensions dissecting it, reside the premier purveyors of dark ambience, Inade. But it's more than simple dark ambience that they traffic in, for their dreams are vast and unrestricted, and their imaginative, ears wide open approach to sound manipulation is audacious and unparalleled. It's as much weird ambient as it is dark ambient; strange, perplexing sounds in which origin must be questioned. Arcane musings from the cosmic wasteland collide with insectiod utterances culled from ancient alien terrain; deep audio ripples pulsing across dark matter plains collide with the ephemeral flotsam of German occult murmurings. Pterodactyl's squeal in atavistic joy, space itself breathes--inhalations like crackling Cthulhuian dread, exhalations etched on the machinery whine of Forever--and the ever shifting cartography of the infinite is sonically translated along the ridge of collision, where Inade dare to explore. What remains is incomparable: the audio mythology they have nurtured, and the legacy that is Colliding Dimensions.
Announced for several years we can finally present the long requested compendium of INADE that closes a circle from near the starting point of the project to their Peryt Shou release and concert in December 2002. All material of this set was recorded and sculptured during live shows and rehearsal sessions from 1995 to 2002 and was especially selected and mastered to receive high quality audio recordings with no compromise in sound. More than a half of the tracks have not been released in any form yet and this release brings back as well a lot of long sold out material like Vitriol, Flood Of White Light and more in new and powerful live versions.
The vinyl edition is limited to 525 copies only. loki 38